Bookish and Not-So-Bookish Thoughts
...a day late.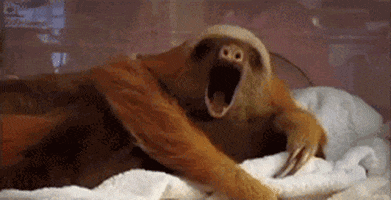 10. Every few weeks, I decide to read some sleep training books. Then, I get totally overwhelmed by the information in them and resolve to just keep doing whatever "feels right" in regards to Grace's nap and sleep routines. I'm in the midst of one of those cycles right now.
9. I am trying to listen to Virginia Woolf's
To The Lighthouse
on Audible for my book club. I read the book when I was an undergraduate, but don't really remember anything about it except that it was difficult. Although I love to listen to non-fiction, I'm not great at paying attention to fiction on audio, so we will see how this goes.
8. I'm really enjoying the new Ryan Murphy series
Scream Queens
. I am a fan of his in general, but I don't love all the
American Horror
seasons,and thought
Glee
got a little lame at the end. So, I'm hoping this one keeps up its momentum, since I did love every weird, campy minute of
Nip/Tuck.
7.
Jurassic World
is coming out in digital this week, and I'm super excited. When I was pregnant, I would tell my baby to stay in there until I could see JW. My water broke at Starbucks the day before I was going to see it. So, boo. But, now I can watch it from the comfort of my living room.
6. The new Lana Del Rey album makes me feel like I've taken muscle relaxants. I think that is the point? It's not safe to listen to in the car.
5. In other movie news, I can't wait to see the
The Martian.
It will be our first movie in the theater since G was born. I just hope I don't fall asleep.
4. When we chose the name Grace for our baby, I felt like no one was named Grace. Now it seems like everyone is...including Lena Dunham's sister, which I learned reading her book while rocking my baby before naps.
3. I'm really into Jellycat books for babies. Not sure why. They are really short and simple, but I just think they are the cutest.
2.
This app
is my new obsession.
1. I'm happy to be blogging a bit instead of scrolling endlessly through my Facebook feed. Facebook is like crack for new moms. I don't like it, but I can't stop doing it.
Have a great week all! Thanks for hosting
Christine
!